The Aspen Presidential Fellowship for Community College Excellence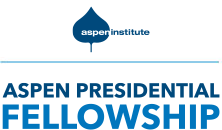 The Aspen Presidential Fellowship for Community College Excellence aims to develop a cadre of exceptional leaders who can transform community colleges to achieve higher levels of student success while maintaining broad access. Drawing on the exemplary work of excellent community colleges, the Aspen Institute engages a select group of fellows each year in this intensive, applied leadership executive program, delivered in collaboration with Stanford Educational Leadership Initiative. The year-long fellowship includes three on-campus residential seminars plus structured mentoring for applied learning and the development of a strategic leadership vision. The curricular resources available on this site form the foundation of the Fellowship curriculum, with additional sessions led by Stanford University faculty and current and former community college presidents.
What current Fellows have to say about the program:
"Thinking about student success by including learning, completion, labor market, and equitable outcomes as equal parts in measuring the whole of success has challenged and enlightened me. My new definition of student success is one that focuses on the goal of making the middle class possible for our students." – Michael Baston; 2016-2017 Aspen Presidential Fellow; President, Rockland Community College
"As I reflect on the Aspen Fellowship, it has changed me. The fellowship has literally changed how I think. The four principles of student success; learning, completion, labor market outcomes, and equitable outcomes, are the prism by which we now make every decision at Tulsa Community College." – Leigh Goodson; 2016-2017 Aspen Presidential Fellow; President and CEO, Tulsa Community College
"I've learned that to effectively increase student success, community college presidents will need to communicate effectively, master creative and innovative solutions, build collaborations for impact across diverse organizations, and create a vision focused on common goals, all while effectively managing what the college may be experiencing at the moment." – Kristen Westover; 2016-2017 Aspen Presidential Fellow; President, Mountain Empire Community College
For more information on the Aspen Presidential Fellowship, please visit the program website.
-----
Community College Leadership Ed.D. Program at NC State University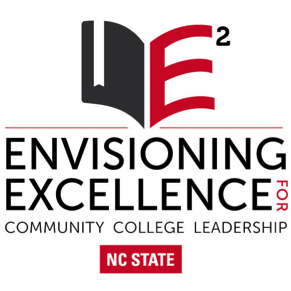 Aspen has partnered with NC State University's College of Education to provide future community college leaders with hands-on, practice-based curricular materials that focus on the four pillars of community college excellence and the skills that leaders need to effectively bring about transformational change at their institutions. Graduate faculty teaching in the Community College Leadership Ed.D. program have integrated CEP's Leading for Community College Excellence: Curricular Resources throughout the curriculum. The Aspen Institute and NC State faculty collaborated to map CEP's modules to the recently re-designed course sequence for NC State's Ed.D. program in Community College Leadership. This integration allows students to take a research-intensive approach to practical problems that includes concepts from Aspen's curricular resources, such as a focus on post-completion outcomes, partnership using the collective impact model, and transformational leadership. The partnership between Aspen and NC State is setting the stage for the next generation of community college leaders in North Carolina who frame problem-based research around Aspen's community college excellence framework, thereby generating dynamic solutions and opportunities in North Carolina and beyond.
What current students have to say about the program:
"Designed to prepare and equip emerging community college leaders, the Aspen modules provide a framework for thoughtful and courageous engagement around critical issues within community colleges.  The framework, built upon four measures of excellence (completion, learning, equity and labor market outcomes), challenges us to think deeply about the students we serve and the services we provide, in a manner that is both evidence-based, strategic and systemic.  Simply put, it calls for us to be reflective practitioners - and not to continue to do the same thing to impact student success expecting different results." - Yolanda Wilson; Associate Vice President, Business, Computer, Arts, and Sciences Division; York Technical Community College
"I have been working in higher education for 11 years. All of those years are within student services with a hint of academic instruction. I really prided myself on thinking I knew what created student success. Upon being exposed to the Aspen model, I now understand that I don't know much of anything. I have a refreshed appreciation for what I need to learn. The Aspen modules are a great set of tools to have in tow for sculpting the ever changing landscape of community college success. It has made it easier for me to concentrate on content instead of the process. I feel like these modules grant me the opportunity to learn more about community college leadership." - Jairo McMican; Director Admissions and Advising Services; Durham Technical Community College
"The four areas of excellence that Aspen defines for student success has been helpful in my work at Central Piedmont Community College.  Through the modules that NC State has incorporated into the Ed.D. curriculum, I have been able to see advantages to define and communicate about student success in terms of equity, learning, labor market outcomes, and completion.  These four specific areas of college performance are commonly interrelated and must be improved and measured simultaneously so that by increasing one measure, such as completion, we aren't decreasing performance in another area, such as learning.  Framing these outcomes specifically and holistically, as Aspen does, has improved the everyday applicability for practitioners who are currently leading, or who aspire to lead, in a community college." - Chris Paynter; Dean STEM; Central Piedmont Community College