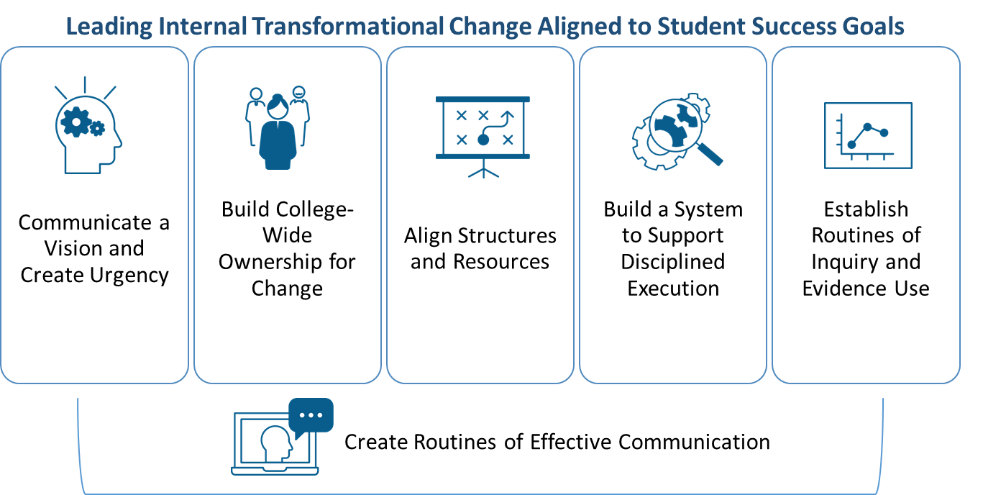 Learning Objectives & Outcomes
After completing this module, participants will be able to:
Effectively communicate a strategic vision for student success.
Build urgency for change through the strategic use of data.
Identify and implement strategies to build ownership for transformational change throughout the college by building stakeholder investment in the change.
Evaluate current institutional structures and align them to support student success goals.
Identify and engage stakeholders around those factors that commonly derail reform efforts.
Put processes into place for ongoing evaluation and continuous improvement.
Plan for a student success research agenda that includes data inquiry and consideration of the student experience.
Module Overview
It is commonly lamented that bringing about change in higher education "is like moving a cemetery…there's not a lot of internal support for it." [1] And yet, some institutions achieve dramatically better or much more rapidly improving student outcomes than others—current rates of success (or failure) are not natural or inevitable. The need for transforming institutions at scale to replicate these successes is thus urgent. Adapting the kind of whole-scale redesign necessary to fundamentally improve the student experience requires strategic and persistent work to change not just structures and policies, but college-wide cultures that affect ways of thinking and acting.
The goal of this module is to provide community college leaders with a leadership framework that supports transformational change within their institutions that is aligned to student success goals. Participants will learn strategies designed to communicate a vision for change; articulate a corresponding college-wide agenda; align structures, resources, and systems to support the implementation of that change; and establish routines of inquiry and data use to monitor their effectiveness. Strong communication is vital to everything a president does, and transformational change leadership requires that presidents develop a disciplined approach to internal communication. Throughout the module, participants will be introduced to strategies for supporting transformational change through the use of strategic communication.
Before beginning this module, participants would benefit from reviewing the content in the module Defining Student Success. This will provide participants with an opportunity to define and develop their own vision for student success at their institution before thinking through the structures, systems, and routines critical to transformational change efforts and improving student success.
[1] The source of this quote is unclear; James Hearn noted that it is sometimes attributed to Lee Dreyfus, former governor of Wisconsin and chancellor of University of Wisconsin-Stevens Point, but that it has also been attributed to Woodrow Wilson.
Preparation
Pre-Work
Participants should bring copies of agendas from three recent meetings of their college leadership team for use in the "Agenda Review" activity.
Pre-Reading
Aiken, C., & Keller, S. (2009, April). The irrational side of change management. McKinsey Quarterly, 2. Retrieved from http://www.mckinsey.com/business-functions/organization/our-insights/the-irrational-side-of-change-management
Heifetz, R. A., Kania, J. V., & Kramer, M. R. (2004, winter). Leading boldly. Stanford Social Innovation Review. Retrieved from https://ssir.org/pdf/2004WI_feature_heifetz.pdf
Klempin, S., & Karp, M. (2015). Leadership for transformative change: Lessons from technology-mediated reform in broad-access colleges. CCRC Working Paper No. 83.
Shugart, S. (2012). The challenge to deep change: A brief cultural history of higher education. Planning for Higher Education, 41(2). Retrieved from http://www.scup.org/page/phe/read/article?data_id=31499&view=article
Optional: Kotter, J. (2012). Leading Change. Harvard Business Review Press.
Module Outline